Wales bans 'non-essential' goods during 2nd national lockdown, New York police crackdown on Jewish gatherings — Society's Child — Sott.net
As an Amazon Associate, News On Trump earn from qualifying purchases.Amazon and the Amazon logo are trademarks of Amazon.com, Inc, or its affiliates.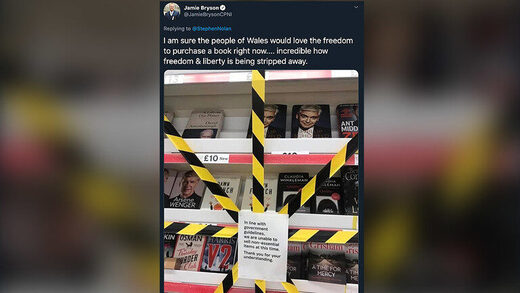 © Twitter / Jamie Bryson @JamieBrysonCPNI
The government of Wales has received more than they bargained for after ordering supermarkets not to sell 'non-essential' goods… like clothing, books, phones and lots of other things that many people just can't live without.
Customers of large retailers in Wales were greeted on Saturday with rows upon rows of shelves covered with plastic sheets or crisscrossed with tape. The businesses didn't have much choice in the matter – they had to comply with new government guidelines meant to curb the spread of Covid-19.
Wales went into a 17-day "firebreak shutdown" on Friday evening, during which non-essential businesses will remain closed. And if a small shop cannot sell clothes, apparently neither can a giant retailer. That is because the government has to "maintain a level playing field" and not allow people "browsing around supermarkets looking for non-essential goods", as First Minister Mark Drakeford put it. So, if you planned to buy warm clothes for your baby ahead of sub-zero-temperature weather, tough luck – order something online.
Naturally, many were not amused, and pounced on Drakeford and the Welsh Labour Party for coming up with the new rules. During Britain's first national lockdown this spring, most small businesses were shuttered too, but supermarkets were allowed to sell their regular stock as usual.
Some even tried to defy the ban, or advocated non-compliance through their actions.
Others responded with somewhat morbid humor, ridiculing the new measures or suggesting how they could be circumvented.
The ban was announced without a clarification of what goods were considered non-essential, leaving large retailers to guess. Businesses allowed to remain open include bicycle shops and livestock auctions, so there was plenty of room for interpretation, and large corporations naturally took the conservative approach, much to the chagrin of their customers.
Books are one item many consider essential in their lives and would like to see made available during the next two weeks. There have also been complaints about the ban covering clothing, cleaning products, and, of course, fireworks for Guy Fawkes' Night, which will take place in the second week of the lockdown.
Comment:
RT reports:
New York town police accused of INVADING private home in crackdown on Jewish gatherings

A video showing a police officer arguing with a group of Orthodox Jews in a New York town has drawn angry reactions from people online, who see it as evidence of persecution and harassment of the US Jewish community.

The confrontation apparently happened in Monsey, a place in Rockland County famous as a major center of Orthodox Judaism in the US. It shows a police officer standing on the doorstep of a house, engaged in a heated argument with a group of people, one of whom apparently owns the property.

The officer says his patrol was responding to a complaint about cars parked in front of the house and noticed that a gathering of more than 10 people was underway inside, which he called "an issue." The owner, who is dressed as an Orthodox Jew, disagrees that "a few friends" calmly coming together is an issue requiring police intervention. Both parties speak angrily, suggesting that the dispute has been going on for some time without progress. It was not immediately clear how the situation was resolved.

The video quickly spread on social media on Friday and was picked by some right-wing outlets. Many people said the police were obviously overstepping their authority and interfering in private life. A lot of comments went as far as comparing the incident to persecution of Jews by the Nazis.

The argument apparently stems from Covid-19 social distancing rules that are in place in the county. A gathering of over 10 people would not be allowed in a public space – even a park – in the town of Ramapo, to which Monsey belongs.

Orthodox Jews in the US, as well as in other parts of the world, have been notably resistant to lockdowns designed to slow the spread of infection. They say the rules are incompatible with their religious practices.

Monsey is no exception. In April, Ramapo police cracked down on an "illegal gathering" at a Monsey synagogue and arrested eight people for disorderly conduct. This week, a Torah procession scheduled for Sunday was canceled by the town authorities.

The public debate on how harsh anti-Covid-19 rules should be is exacerbated in the US by the heavy politicization of the issue. The Trump administration stands accused of downplaying the severity of the disease and failing to impose a proper lockdown, causing tens of thousands of excessive deaths as a result.

Trump supporters in turn accuse his critics of hypocrisy because their preaching about the importance of social distancing was sidelined in order to support a wave of national protests against police brutality and racism. Many of the online comments about the Monsey incident said the Jews should have said their gathering was an "Black Lives Matter" event to scare off the police.
See also:
And check out SOTT radio's: