Supreme court blocks Trump from cancelling Daca immigration program – follow live | US news
As an Amazon Associate, News On Trump earn from qualifying purchases.Amazon and the Amazon logo are trademarks of Amazon.com, Inc, or its affiliates.

17:21
Officer who shot and killed Rayshard Brooks turns himself in
Garrett Rolfe, who was charged with murder and aggregated assault after fatally shooting Rayshard Brooks in Atlanta, has turned himself in.
Yesterday, prosecutors who announced the charges said that Rolfe has said, "I got him" after firing at Brooks and kicked Brooks as he lay on the ground.
Rolfe's fellow officer Devin Brosnan, who faces three counts including aggravated assault has also turned himself in. The men were booked at the Fulton County Jail in Atlanta.
If convicted, Rolfe faces the prospect of execution or life in prison. Brosnan could spend up to 20 years in prison.
Updated


17:06
Today so far
That's it from me today. My west coast colleague, Maanvi Singh, will take over for the next few hours.
Here's where the day stands so far:
The supreme court blocked Trump's effort to rescind Daca. In a 5-4 decision, the court ruled the department of homeland security had violated a federal administrative law with its policy ending Daca, the Obama-era program allowing undocumented immigrants brought to the country as children to live and work legally in the US.
Trump and other Republicans criticized the court after the ruling. The president insisted the country needed "new justices" to protect conservative values, making a pitch for his reelection, and Republican lawmakers accused chief justice John Roberts of playing politics by siding with his four liberal colleagues.
The former Atlanta police officer charged with murdering Rayshard Brooks turned himself in. Fulton county district attorney Paul Howard announced yesterday that Rolfe was facing 11 charges, including felony murder, after shooting Brooks twice in the back while he was running away.
Trump acknowledged there is "probably" some systemic racism in the country, which Democrats and activists have blamed for recent police violence against African Americans. The president also took credit for bringing attention to Juneteenth, even though the holiday has been celebrated since 1866 and is observed in 47 states.
Four Confederate portraits were removed from the Speaker's Lobby in the Capitol. House speaker Nancy Pelosi announced this morning that the four portraits of former speakers who had served in the Confederacy would be removed ahead of tomorrow's Juneteenth holiday.
Maanvi will have more coming up, so stay tuned.

16:47
Confederate portraits removed from Speaker's Lobby
The portraits of four House speakers who served in the Confederacy are currently being removed from the Speaker's Lobby in the Capitol.
Those speakers are Robert Hunter of Virginia, Howell Cobb of Georgia, James Orr of South Carolina and Charles Crisp of Georgia.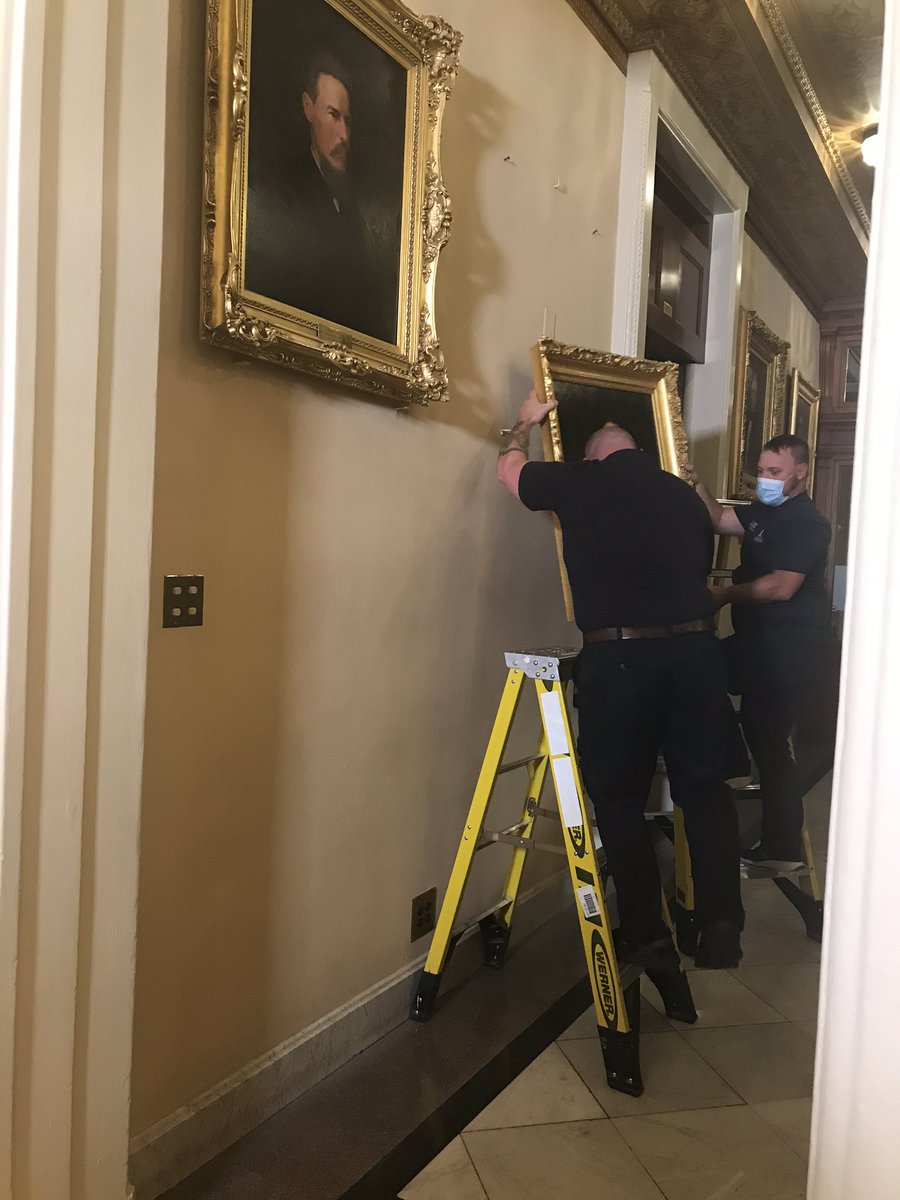 House speaker Nancy Pelosi announced earlier today that she would remove the portraits ahead of tomorrow's Juneteenth holiday, which commemorates the end of slavery in America.
Pelosi has also called for the removal of Confederate statues in the Capitol, although she has less authority when it comes to removing them because individual states choose what statues to send.

16:33
Nearly two-thirds of Americans say the president has made the country more divided, according to a new AP/NORC poll.
The poll found that 64% of Americans say Trump has made the country more divided, while 12% say he has made the question more united. Another 24% said he had not made the country more united or more divided.
A majority of Americans, 54%, also say Trump has made things worse since the police killing of George Floyd and the protests it has sparked.
And Americans are overall pessimistic about the direction of the country. Just 24% of Americans say the country is headed in the right direction, down from 42% in March.

16:15
At one point during the roundtable, Trump pulled out his phone to look at it while Oklahoma businessowners were describing how their businesses have suffered as a result of the coronavirus pandemic.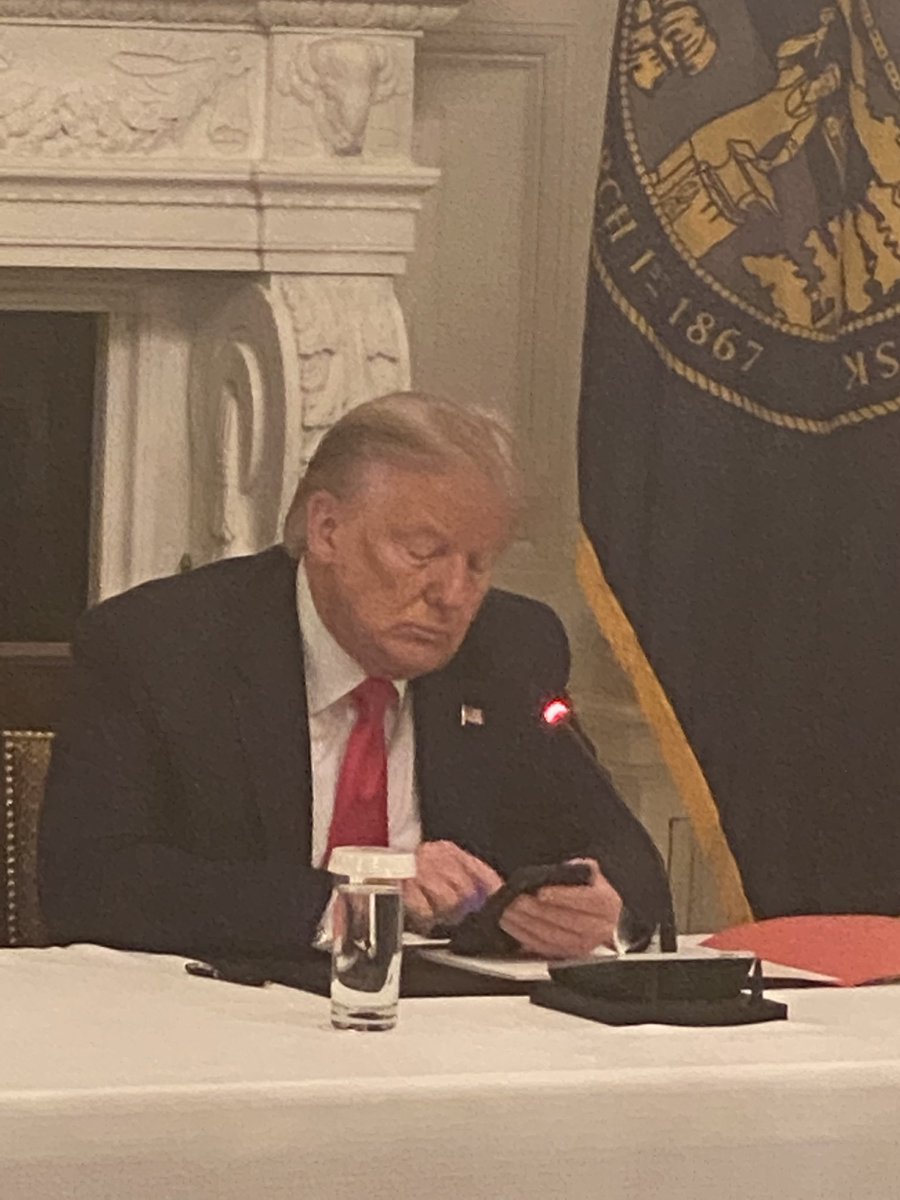 Moments later, Trump sent this tweet about US trade representative Robert Lighthizer, who yesterday defended the US-Chinese trade deal that the president has soured on in recent weeks.


16:06
Trump just concluded a roundtable at the White House on reopening the economy, alongside Oklahoma governor Kevin Stitt.
Stitt told Trump that the state of Oklahoma "can't wait to see you" on Saturday, when the president holds a campaign rally in Tulsa.
"Oklahoma's ready for your event," Stitt said. "It's gonna be safe."
But public health experts have expressed serious concerns about the potential spread of coronavirus at the large indoor rally, and Tulsa's top health official has said he thinks the Trump campaign should postpone the event.
Updated


15:47
Atlanta police officer charged with murdering Brooks turns himself in
Former Atlanta police officer Garrett Rolfe, who has been charged with felony murder in connection to the death of Rayshard Brooks, has turned himself in, according to CNN.
Fulton county district attorney Paul Howard announced yesterday that Rolfe was facing 11 charges, including felony murder, after shooting Brooks twice in the back while he was running away.
Howard gave Rolfe and former officer Devin Brosnan, who is facing three charges for his involvement in the killing of Brooks, until 6 pm today to turn themselves in.
Brosnan turned himself in earlier today and was released on bond, in part because he is cooperating with Howard's office and has agreed to testify against Rolfe.

15:31
The Guardian's Kenya Evelyn reports from Washington:
Crowds cheered as Daca recipients, also known as Dreamers, descended arm-in-arm from the steps of the US supreme court Thursday, after the justices blocked Trump's effort to end the program.
Some wiped tears while others raised their fists. Elsewhere in Washington, on the floor of Congress, New York Democrat and Senate minority leader Chuck Schumer delivered an emotional statement: "It gives you some faith that the laws, rules and mores of this country can be upheld."
In a statement, Cesar Vargas, New York state's first undocumented attorney, said: "Dreamers can now breathe a sigh of relief."
"We always knew this was close and we were proven right with the 5-4 decision," he said, of the split vote between the nine justices that sit on the supreme court. "Now the Trump administration has to follow proper procedures to ensure that lives are not disrupted."

15:14
Daca recipients are celebrating today's supreme court ruling, while emphasizing there is still a lot of work to be done to ensure permanent legal status for "dreamers."
Martín Batalla Vidal, a lead plaintiff in the Daca case, said in a statement provided by the National Immigration Law Center, "Today marks a historic victory for immigrant youth who have led the fight for respect and dignity for all communities. …
"For almost three years we have been living with immense uncertainty, and today we are able to breathe a sigh of relief. Nonetheless, our fight does not end with the decision by the Supreme Court; our fight continues for permanent protection for DACA recipients and all undocumented people."
Marielena Hincapié, the executive director of the NILC, added, "This is an incredible victory fought for and won by the very people Trump continues to want to exclude from our country. Today's Supreme Court decision is a great day for our country."

14:56
White House trade adviser Peter Navarro mocked John Bolton's new book as "deep swamp revenge porn," a day after an excerpt of the book revealed some alarming and unflattering anecdotes about Trump.
In a Fox News interview, Navarro criticized "book deal, big lie John Bolton" for his hawkishness, claiming Bolton became a "warlord" in his role as national security adviser.
"He comes in here in his like seersucker summer suits with the big mustache. I was in a staff meeting one time, he walked in and he was absolutely giddy at the prospect of a coup in Venezuela," Navarro said.
"It was like weird, and I'm thinking to myself, 'Wait a minute. This is a serious, serious matter and he is giddy. There's something wrong with that dude.'"
The trade adviser also denied that Trump asked Chinese President Xi Jinping to buy American agricultural products to help his reelection, as Bolton alleges in his book.