Oakland police station vandalized after hundreds rally in support of Portland protesters — Society's Child — Sott.net
As an Amazon Associate, News On Trump earn from qualifying purchases.Amazon and the Amazon logo are trademarks of Amazon.com, Inc, or its affiliates.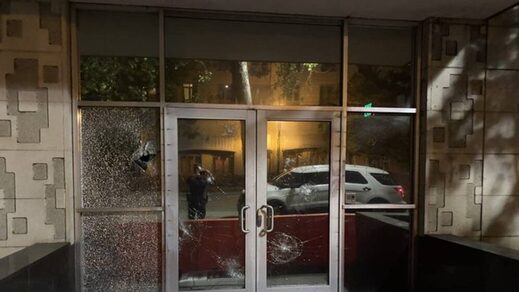 © KAKE/ABC News
Hundreds of protesters participated in what started as, and was intended to be, a peaceful march through the streets of downtown Oakland Saturday evening to show support for the ongoing protests continuing in Portland since George Floyd's death nearly two months ago.
The event began at 7:30 p.m. at Frank H. Ogawa Plaza at 14th Street and Broadway in Oakland, according to organizers which included the Wall of Moms Bay Area, Refuse Fascism Bay Area and Vigil for Democracy.
The Wall of Moms group encouraged participants to wear yellow and bring sunflowers. All must wear masks to prevent the spread of COVID-19.
"Reject secret federal police in our cities, and celebrate our right to gather peacefully and protest," the moms' group Facebook page says.
Crowds were seen marching through downtown Oakland.
The Oakland Police Department partially opened their Emergency Operations Center Saturday afternoon to monitor the protest, Officer Johanna Watson said. The Alameda County Sheriff will be standing by if mutual aid is requested.
Officials tweeted that some people within the hundreds of demonstrators vandalized the police station by breaking windows, spray painting and shooting fireworks.
Attendees made their way towards the area of 17th and Lakeside and began shouting racial slurs and breaking windows, officials tweeted.
Around 10:30 p.m., a small debris fire broke out at the Alameda County Superior Courthouse and police said it was caused by "agitators within the crowd of demonstrators." Crews contained the fire shortly after.
Shortly before midnight, Oakland police tweeted video of a person removing barricades placed in front of the police headquarters. Police say they asked crowds to disperse and deemed the situation an unlawful assembly.
Federal officers were sent by President Donald Trump to protect federal property in Portland, but their presence has escalated tensions and drawn several other groups to the protests.
Wall of Moms groups formed in recent weeks after Trump announced he was sending federal troops to Democratic-led cities.
In Seattle, thousands of protesters initially gathered peacefully near downtown on Saturday in a show of solidarity with fellow demonstrators in Portland.
Seattle police declared a riot following large demonstrations in the city's Capitol Hill neighborhood and deployed flash bangs and pepper spray to try to clear an area near where weeks earlier people had set up an "occupied protest zone" that stretched for several blocks.
Via Twitter, police said they had made some arrests Saturday and were "investigating a possible explosive damage" to the walls of the city's East Precinct police station.
Authorities said rocks and bottles were thrown at officers. More than two dozen people were arrested.
Comment:
Further violence has ensued with the brazen murder of black Trump supporter, Bernell Trammel, in Milwaukee, Wisconsin
Wisconsin Republican Party Chairman Andrew Hitt asked that US Attorney Matthew Krueger investigate whether the "senseless" killing was politically motivated. Trammel was gunned down around midday Thursday in front of his small publishing business, eXpressions Journal. Police are still looking for the shooter.

Trammell was well known for standing outside his shop or Milwaukee City Hall with handmade signs urging passersby to re-elect Trump in November. He also displayed other signs with religious or anti-violence messages, as well as messages in support of Black Lives Matter.

His death was met with shock in Milwaukee, where he was reportedly remembered for being positive, polite and selfless. Conservatives such as Fox News host Laura Ingraham reacted with outrage.

Turning Point USA founder Charlie Kirk suggested that lack of attention to the gruesome murder showed the hypocrisy of the Black Lives Matter protest movement. "It shouldn't be dangerous to support the president," Kirk said on Twitter. "His name was Bernell Trammell. Did his life not matter to BLM Inc.?"

The conservatives' concerns are not unfounded, as animosity among leftists toward black conservatives is nothing new. Drew Duncomb, a black Trump supporter, said he was stabbed early on Saturday by an "Antifa dude" in Portland who had been following him around. Another black man was assaulted by protesters in Portland on Friday, after standing outside the fence protecting the city's federal courthouse and calling for calm.