Biden signs even more EOs on 'existential' climate threat, Obamacare, abortion — Puppet Masters — Sott.net
As an Amazon Associate, News On Trump earn from qualifying purchases.Amazon and the Amazon logo are trademarks of Amazon.com, Inc, or its affiliates.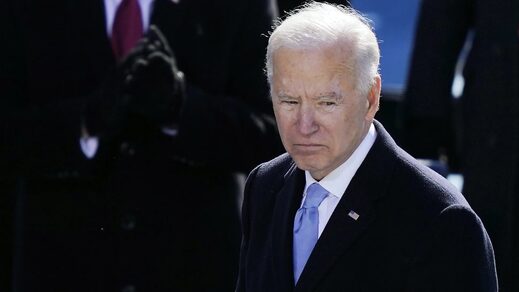 © Drew Angerer/Getty Images
US President Joe Biden has signed a series of executive orders designed to address climate change, including a new ban on some energy drilling.
The orders aim to freeze new oil and gas leases on public lands and double offshore wind-produced energy by 2030.
They are expected to meet stiff resistance from the energy industry and come as a sea change from Donald Trump, who cut environmental protections.
"Today is climate day at the White House," said Mr Biden on Wednesday.
"We have already waited too long," Mr Biden told reporters at the White House. "And we can't wait any longer."
Mr Biden said the US "must lead" a global response to the climate change crisis.
"Just like we need a unified national response to Covid-19, we desperately need a unified national response to the climate crisis because there is a climate crisis," he said.
He added that neither challenge could be met by the US alone.
The series of executive orders that Mr Biden signed on Wednesday establishes a White House office of domestic climate policy and announces a summit of leaders to be held in April on Earth Day.
Climate change, under Mr Biden's plan, will become both a "national security" and "foreign policy" priority, officials say.
Mr Biden is also calling upon the US director of national intelligence to prepare an intelligence report on the security implications of climate change.
What do the orders do?
Mr Biden is using his presidential powers to make climate change a central issue of his administration.
The executive orders and memorandum – which cannot go as far as congressional legislation in combating climate change – can be undone by future presidents, as he is currently doing to Mr Trump.
According to a White House statement, Mr Biden is directing the Department of the Interior to pause oil and gas drilling leases on federal lands and water "to the extent possible" and to launch a review of existing energy leases.
Mr Biden aims to conserve at least 30% of federal lands and oceans by 2030.
According to the New York Times, fossil fuel extraction on public lands accounts for almost a quarter of all US carbon dioxide emissions.
Mr Biden's order does not specifically address private property owners or state-held public lands.
He has signed more than three dozen executive orders in his first week in office, more than any of his predecessors.
Critics note he told ABC News while campaigning last October that only a "dictator" would use executive orders excessively. "We're a democracy," said Mr Biden, whose fellow Democrats now control all of Congress. "We need consensus."
What other climate measures is he taking?
Mr Biden's "whole-of-government" approach, the White House says, creates the position National Climate Advisor who will lead the office of Domestic Climate Policy at the White House.
The presidential climate envoy, former Secretary of State John Kerry, conceded to reporters on Wednesday that it would make little difference in the global climate change fight if the US reduced its emissions to zero.
"He [Mr Biden] knows Paris [climate accord] alone is not enough," Mr Kerry said. "Not when almost 90% of all of the planet's global emissions come from outside of US borders. We could go to zero tomorrow and the problem isn't solved."
The orders also direct federal agencies to prepare for the impact of climate change on their operations and improve access to information on the issue.
Mr Biden also directed agencies to only make "evidence-based decisions guided by the best available science and data".
Comment:
Enter critical climate justice theory, stage right:
As part of a sweeping executive order signed on Wednesday, the new or expanded "climate justice" offices will be established at the Department of Justice (DOJ), Health and Human Services (HHS) and the Environmental Protection Agency (EPA).

"We know the communities who are being hurt, and we know we have to start enforcing the standards today in ensuring that they are part of the solution," Gina McCarthy, Biden's newly minted climate adviser, told reporters on Wednesday.

McCarthy, who ran the EPA between 2013 and 2017 during the Obama administration, praised the Biden-Harris administration for its "most ambitious climate vision" ever and said the new orders recognize the "intersectionality" of climate with the coronavirus pandemic, the economy and "racial equity."

"Science is telling us that we don't have a moment to lose," added McCarthy.

Biden's executive orders direct the US government to "develop programs, policies, and activities to address the disproportionate health, environmental, economic, and climate impacts on disadvantaged communities," according to talking points released by the White House.

Among its provisions is the establishment of a "Justice40 Initiative," which aims to deliver 40 percent of the overall benefits of federal investment to "disadvantaged communities" and establish an Environmental Justice Scorecard to track its progress.

The newly established White House Environmental Justice Advisory Council will "prioritize environmental justice and ensure a whole-of-government approach to addressing current and historical environmental injustices," the White House said.
For everyone who thought Trump was insane, meet Biden. His administration is off-the-wall bonkers.
Even more EOs:
Biden will sign an executive order on Thursday directing the Department of Health and Human Services to reopen enrollment for the federal Affordable Care Act insurance exchanges via HealthCare.gov. The order gives members of the public in 36 states, without coverage, extra time to apply, targeting those who lost their insurance amid the coronavirus pandemic.

…

As part of Thursday's healthcare focus, Biden will also sign a presidential memorandum that protects access to abortion in the United States and overseas.

Following a tradition established by Democratic presidents before him, Biden will rescind the "global gag rule," or "the Mexico City Policy," which prevents international non-profit organizations that provide abortion counseling or referrals from receiving federal funding. That order also asks HHS to review its Title X family planning regulations.
That brings the number so far of executive actions up to 40 – in a week… Trump did 55 in his first full year in office.